Mammoth Glacier
After three days on the shores of remote Scott Lake its time to move on. We're curious to explore the glacier that is feeding this strikingly silty body of water. Its our ticket back to the Peak Lake area.
Farewell Scott Lake.
The overcast morning has us speculating whether it'll finally rain. Backpacking up the drainage leading to Mammoth Glacier is shockingly easy by Winds standards and in short order we reach the glacier's toe. Its not all that steep but pure ice so crampons are a must. We pass by several beautifully sculpted slot canyons with flowing water en route to the mellow saddle between Split Mountain and G-4.
Gentle Mammoth Glacier.
Split Mountain, our main objective for the day, is on the right. Twin Peaks is straight ahead.
Route to the saddle between Split Mountain and G-4. Near the top the icy glacier is partially covered with soft snow and there are small crevasses visible nearby so we proceed cautiously, probing around with our axes.
Split & G-4: Minor Diversions
We dump our heavy loads at the 12,460 ft saddle and make the short and easy scramble up the southwest slopes of Split Mountain. Its the easiest ascent of the trip thus far and the summit views are quite spectacular.
On Split Mountain's southwest slopes. Arrowhead & Bow are in the background. Peak Lake, our final destination for today, is on the right.
Left to right (front): Woodrow Wilson, Sphinx, Twin Peaks. Left to right (back): Warren, Spearhead and Forked Tongue Pinnacles, Helen, Sacagawea, Fremont.
American Legion, Arrowhead, Bow.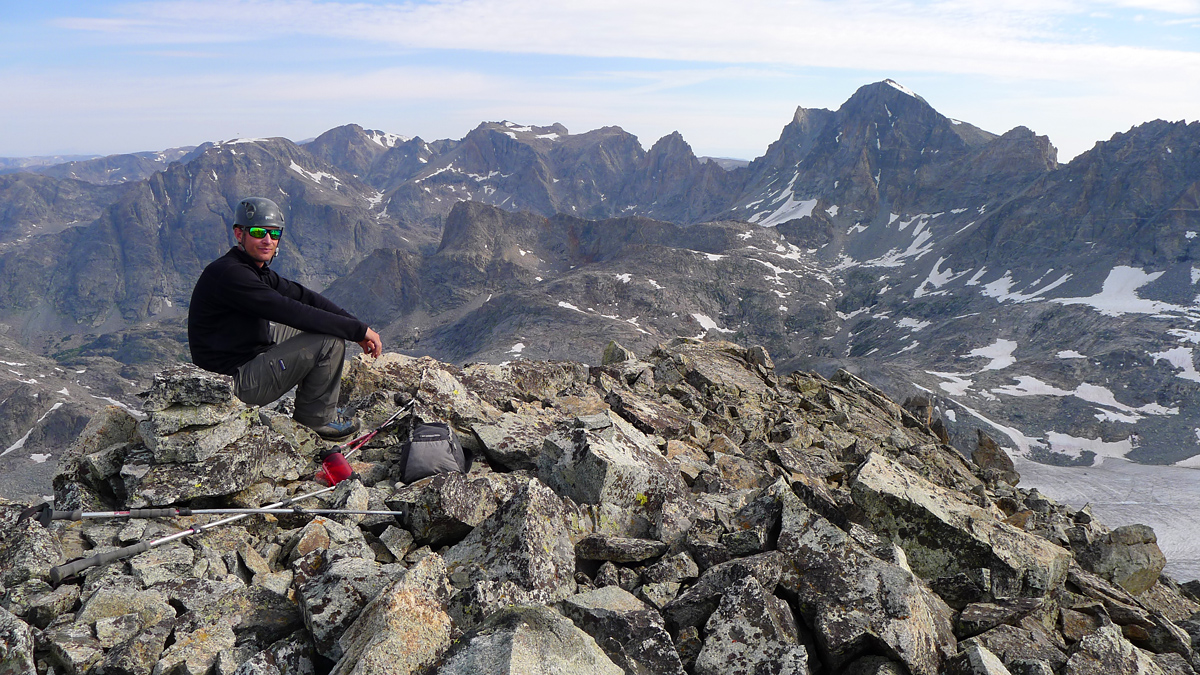 Dominic on the summit of Split. Desolation Peak is directly behind him. Gannett is the big peak on the right.
Looking down at the saddle between Split and G-4. Short little G-4 blends in with mightier Whitecap and Ladd behind it.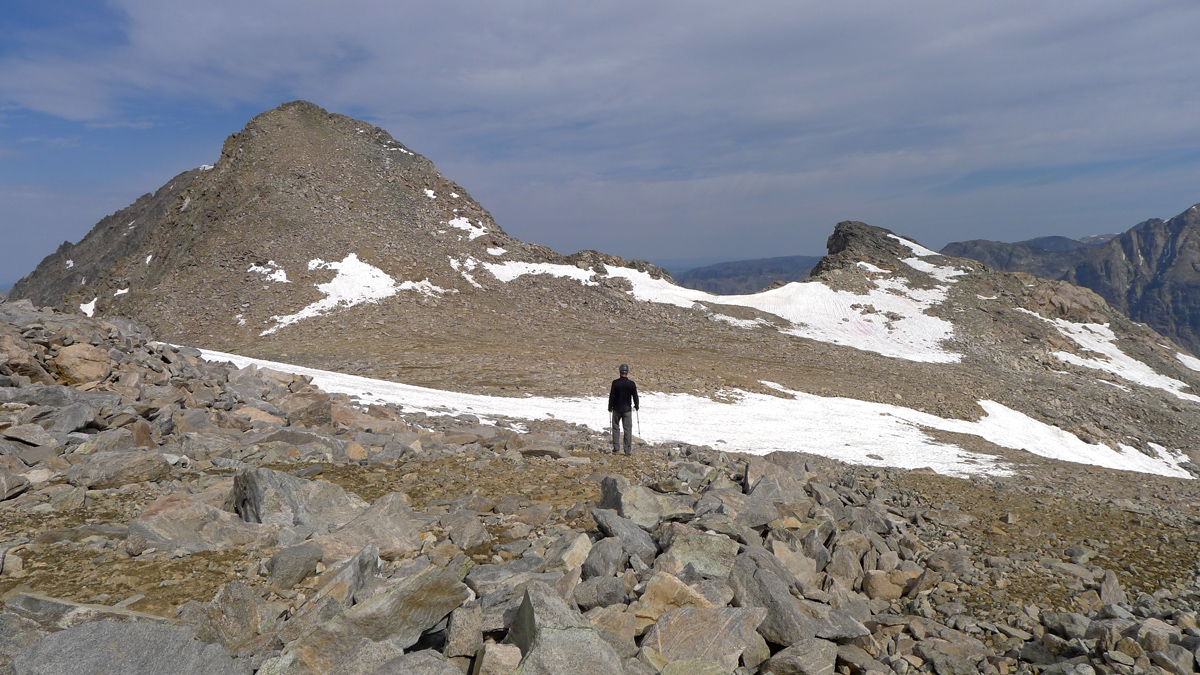 Dominic back at the saddle with G-4 behind him. Time for a bonus peak.
Dominic on G-4 above Peak Lake.
Left to right: Bondage, Arrowhead, Bow, Sulphur, Brimstone, Stroud, Sky Pilot (behind, far right).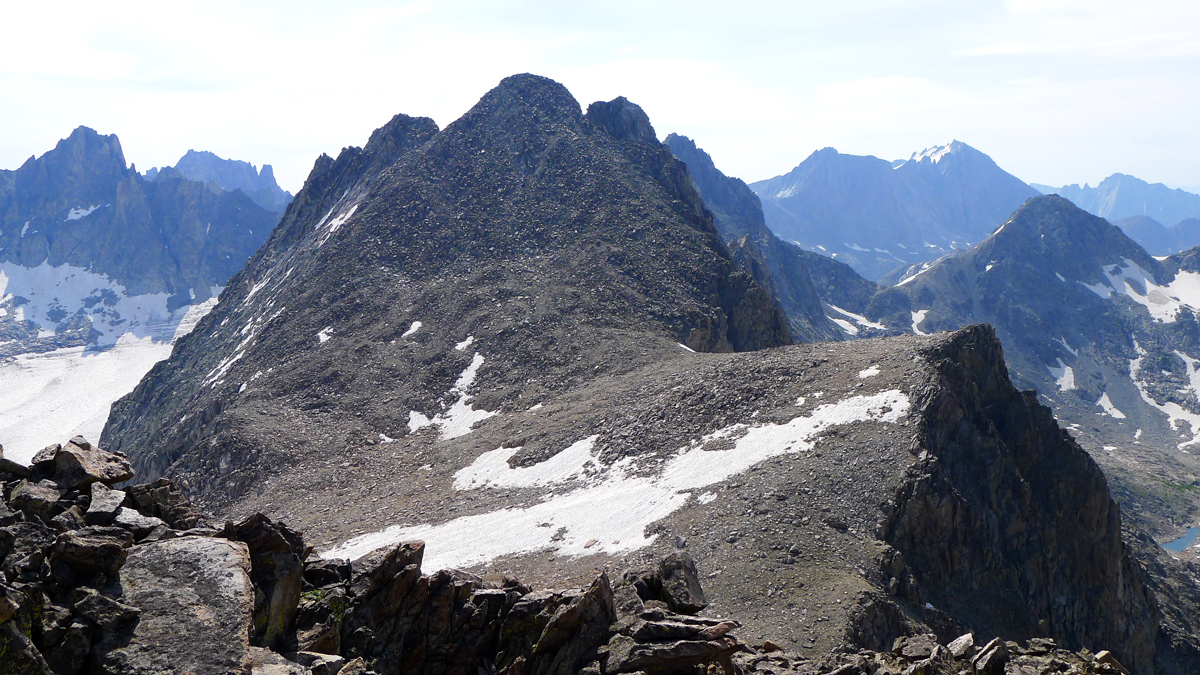 Split as seen from G-4.
Dominic chilling on G-4. Its still early and we don't have far to go.
Peak Lake Bound: Racing the Storm
G-4, Split Mountain and Twin Peaks as seen the drainage above Peak Lake.
Stroud Peak and darkening skies. Its raining before noon but we're already settled in our tent.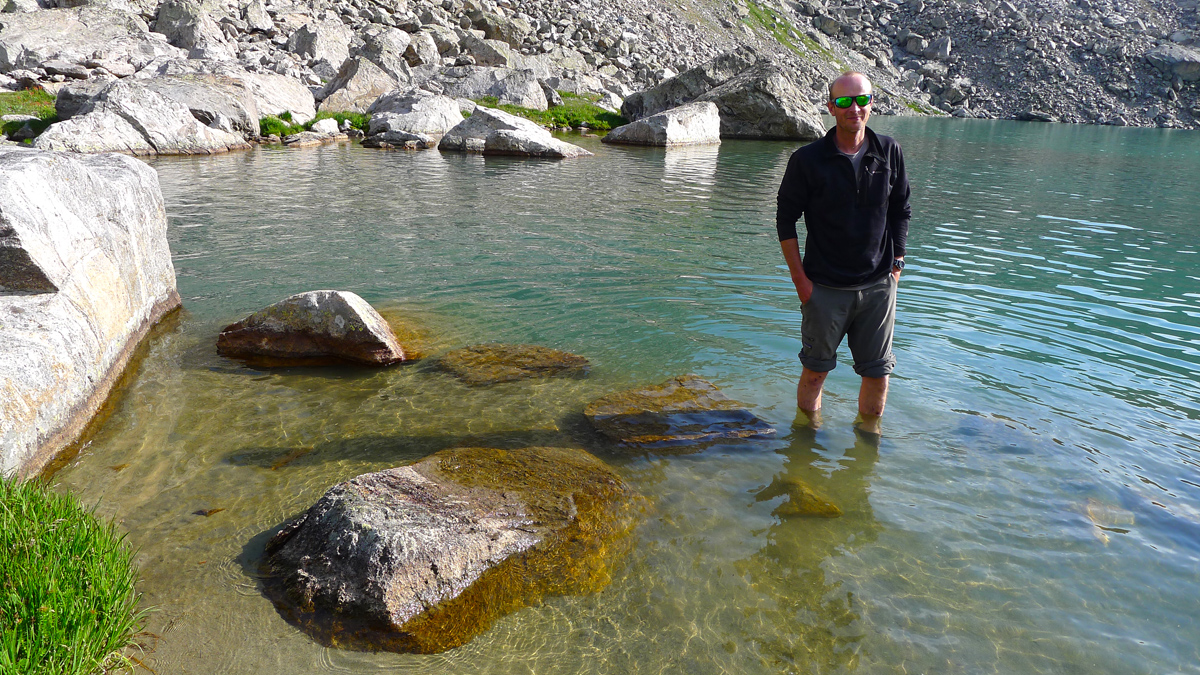 After the storms we go for a walk in Peak Lake.